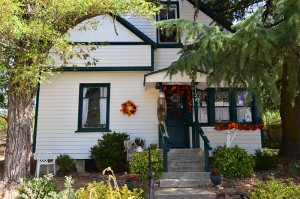 The King house at 2124 Third Street, Julian, was built in 1898 for Clarence King, son of the famed gold miner George Valentine King. Legend has it that in 1871 the elder King prospected for gold in the Banner area for months without success. Eventually he ran out of money and had to sell his rifle to buy food. One day, weary and in despair, he sat down on a boulder to eat the last scrap of bread when he spied a rock nearby glinting a yellowish hue. The assayer confirmed gold in the rock, and King returned to find the gold vein and soon founded the Golden Chariot Mine, second most productive in the Julian area.
Julian's third town hall, dubbed the centennial hall since it was built in 1876, was on the site of the future King house. It soon proved too small for Julian's needs and so lasted but two decades before being dismantled for scrap. The King house was then erected by Clarence's uncle Will Bosnell and served as the King family's residence until 1927 when mother Laura sold it to daughter Lucy Bell for $10.
The house continued in use as a residence for many years before becoming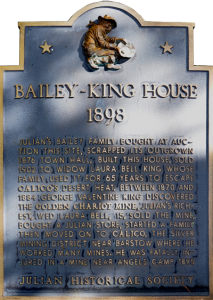 a commercial establishment. Since 1995 it has been the home of Julian Tea & Cottage Arts owned by Edie and Jim Seger.
The King house features single wall construction with lap siding and unique second story dormers. Residents must have found the house very cold in the winter because in the 1940's or 1950's asbestos siding was installed. In 1999 the house was remodeled to include a new fire resistant roof and an exterior siding that replicates that of the original gold miner's cottage of 1898. The house is finished in a light cream with hunter green trim.